Double Gold Award success for LiveWire's Libraries in national reading scheme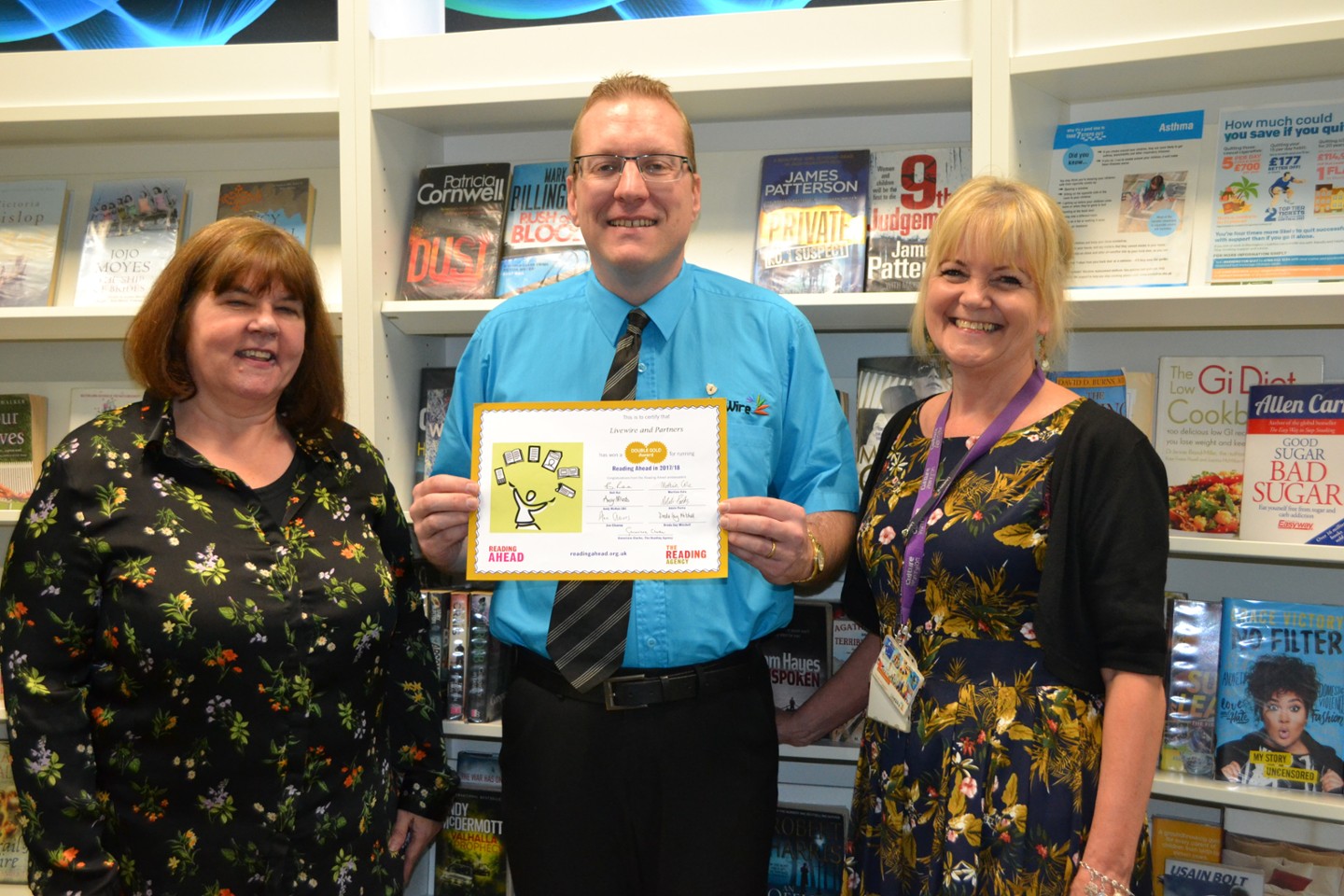 'Reading Ahead' scheme helps improve adult literacy skills
LiveWire's libraries and its partners have received national recognition for the work done over the past year to encourage adults to read more, and improve their literacy skills.
LiveWire has achieved Double Gold Award success for the Reading Ahead scheme 2017/18, along with partners Warrington and Vale Royal College, Priestley College, Warrington Hospital Library, Gainsborough House and Gorse Covert Day Centre.
It is the first time the standard has been achieved by the LiveWire
co-ordinated partnership and was received in recognition of a significant increase in the number of people completing the annual Reading Ahead scheme.
Reading Ahead is a national scheme run by the Reading Agency aimed at adults who want to improve their literacy skills and is delivered through libraries working in partnership with a range of organisations.
People who take part read six pieces of writing – whether that be books, short stories, poems, magazine or newspaper articles – and record their reading in a diary.
The 11th year of the challenge started in November 2017 and ran until June 2018, with 418 readers registered to take part across LiveWire's libraries and partnership sites. This represented an 83% increase on the previous year.
And 377 of those completed the challenge – an incredible 237% increase on the year before.
LiveWire's partnership finished second in the 2018 Roll of Honour achieving more completers than any Public Library partnership and finishing second only in the country to The Manchester College.
Matthew Entwistle, Community Librarian, said: "We are delighted that this unique partnership across Warrington is continuing to bear fruit. Adults who want to be able to improve their literacy skills are being given the facilities, materials and support that they need by this innovative and collaborative partnership which is helping to motivate and empower"
The Reading Agency's research shows that a majority of people taking part in the scheme report an increase in enjoyment of reading, confidence in reading and use of the library to borrow books – and also say they will read more in the future.
The Reading Agency is a charity that aims to inspire people of all ages and backgrounds to read for pleasure and empowerment. Working with partners like LiveWire, their aim is to make reading accessible to everyone, and Reading Ahead is one of a number of initiatives it runs to support this aim.
For more information on LiveWire's libraries, visit https://livewirewarrington.co.uk/library. For more information on The Reading Agency visit http://www.readingagency.org.uk/